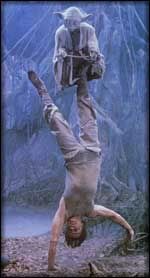 In college, I had a ritual of popping in one of the Star Wars trilogy VHS tapes every Friday afternoon and cleaning my room. Since I had to clean house this afternoon, I went ahead and put in my favorite of the three: The Empire Strikes Back.

I hadn't seen the film in a few years and am definately in a different place now than I was back in college. I knew, of course, that Yoda was the old, wise Guru but never really thought much about what he was communicating. Today was different though - for the first time I really observed the teacher/disciple relationship and the Wisdom he was imparting (not to mention the course in Hatha Yoga - see picture!!!).

I found this following quote very interesting and profound. Who says pop culture doesn't have anything good to offer?

YODA: A Jedi's strength flows from the Force. But beware of the dark side. Anger... fear... aggression. The dark side of the Force are they. Easily they flow, quick to join you in a fight. If once you start down the dark path, forever will it dominate your destiny, consume you it will, as it did Obi-Wan's apprentice.

LUKE: Vader. Is the dark side stronger?

YODA: No...no...no. Quicker, easier, more seductive.

LUKE: But how am I to know the good side from the bad?

YODA: You will know. When you are calm, at peace. Passive. A Jedi uses the Force for knowledge and defense, never for attack.

LUKE: But tell me why I can't...

YODA: (interrupting) No, no, there is no why. Nothing more will I teach you today. Clear your mind of questions.