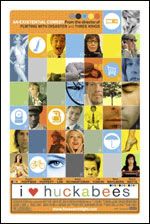 The new film "I (Heart) Huckabees" is Trev Diesel's newest pick for movie of the decade. The movie was just released on DVD this week and I found it to be the most hilarious and enlightening movie to come out in a long time.

Don't let me fool you, though. The movie is not for everyone as it does, as Roger Ebert put it, "leave the viewer out of the loop." If you're unfamliar with existentialism, the inter-connectedness of the universe, quantum particles, envrionmental issues and/or meditation/deconstruction this movie may make you chuckle at times, but will most likely leave you wondering what all the hype is about.

It also has the most hilarious few minutes of comedy I've ever seen: the lead characters sitting around the dinner table, discussing existential philosphy with a group of subburban conservative Christians. ("We don't have to ask those questions, do we mom?")

Genious script. Genious dialogue. The perfect movie for people who can't help but ask the big questions and don't mind laughing at themselves for it.