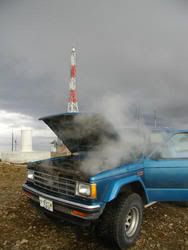 Eknath Easwaran, in one of his books, made a very lofty claim: "I never get disappointed."

What an amazing - albeit seemingly difficult - way to approach living. What if we were so accepting of "What Is" that we welcome all circumstances and situations with equal tranquility? What if we were to say "YES!" to life in whatever forms it presents itself?

Let's say I'm driving to work and suddenly my car overheats ("Damn water pump!"). Naturally I begin to get frusterated (a form of disappointment) because this is not the way I thought my day should go (as if any of us can really see the BIG picture enough to know what is best). So I stew, cuss, and feel sorry for myself and while calling for help on the cellphone, I run mental movies about what I "could have done" in the past to prevent this.

But there I am. My car has overheated. It's not what I thought I had planned for the day, but that makes no matter. I have to accept that as my current situation, be fully present, enjoy the moment, try to learn something from it, and be confident that what has just happened is a part of Divine Order. No stewing. No feeling sorry for myself. No disppointment. It's just... THIS.

This is freedom. This is the only sane way to live.