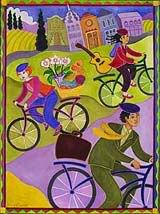 It's now offically Spring which means that it's time yet again to trade in the car for the bicycle. I swore that I would retire my car last fall and bike even through the winter, but as it turns out, I'm not ready to go that hardcore just yet.

Why bike to work (or to run errands, etc.)?

Gas prices are ridiculous, biking is totally free
It's great exercise
You don't get stuck in traffic
Fresh air and great scenery
Road-rage disappears
It encourages you to slow down
According to author Elizabeth Wilhide in her book ECO, "It is estimated that if as few as 1% of American motorists left their car at home for a day each week, 34 million gallons of gasoline would be saved a year, keeping over 880 million pounds of carbon dioxide from entering the atmosphere."
"Since the bicycle makes little demand on material or energy resources, contributes little to pollution, makes a positive contribution to health and causes little death or injury, it can be regarded as the most benevolent of machines."
Stuart S. Wilson, Oxford University